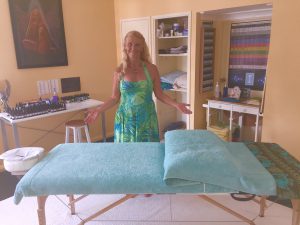 A combination of intuitive deep tissue, relaxation massage and energy work facilitated by the use of Liquid Crystals to move and release energy and bring about a deep state of peace.
This healing massage is truly a wonder. As I work with your body physically, the Master Crystal Devas guide me with which Liquid Crystals are needed to be placed on your body releasing blocks and freeing up energy flow within you. Each session is unique to your needs.
We start with a mini Reading to access the direction of your session and then move to the table where your body is nurtured and healed. The application of Liquid Crystals becomes a story of your healing journey and you can request a written record of the healing at additional cost.
By the end of this beautiful treatment, your body is deeply relaxed, your mind is at peace and many find intuitive answers to their deepest questions revealed.
It is suggested to get the most out of your Liquid Crystal Massage Healing that you indulge in a 90 minute session.
Liquid Crystal Massage Healing
60 min – $120
90 min – $150
Liquid Crystal Massage Healing Report
$20
Location Availability:
Only available at Two Intuitives Healing Centre in Brunswick Heads, Nsw by appointment
Testimonials:
I've had plenty of massages before but none like these. Karen seemed to know just where to work on my body and I could feel the liquid crystals as they opened me up energetically. It felt like a massage, a reading and a healing all wrapped up together. I'll be back for more. It was sheer bliss!