I dream. I hope. I care.
I dare to live intuitively and to fearlessly evolve into the brightest possible expression of myself.
I believe my purpose is to connect Heaven and Earth – with each of us as a  living conduit in-between.
Ever since I was a small girl, I have spent quiet time alone with my Angels and Beings of Light. The first time I saw a huge beaming Angel smiling over me as I awoke, I was scared. I hid under the blankets. Gradually, as I grew older, I became accustomed to sensing my unseen friends who were close by and I began hearing and seeing them again. I regained my confidence and connection with these incredible Beings until I was ready to listen and follow their loving guidance.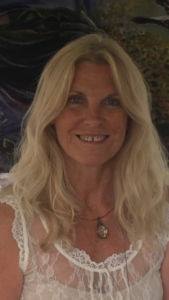 In my 30th year I received the name 'Kahlimna' during a meditation where I was asking for my Angel name. It wasn't the first name that dropped into my mind, yet when I heard it I instantly recognised it as mine. I've used this name one way or another ever since. It's gift was to establish a deep knowing inside myself that I Am connected with the  Angelic realm and this remembering opened my path forward to the work I'm doing today.
My great love is to connect with and support other StarChildren of all ages and their parents. To share my connection, wisdom and healing with them, making their pathway through this world easier and flowing with grace. 
Whether offering Life Guidance through an Intuitive Reading, performing a Liquid Crystal Massage/Healing, Coaching a client one on one to find their impassioned purpose in this world or running a Workshop on Living Passionately – my Beings of Light are always present and guiding me. 
It is they that are assisting you through me! 
I have the privilege of linking them and you together for your highest good. 
My wildest dream is to assist you to find  the clarity and confidence to communicate directly with them – which is absolutely possible. I hold the space for you to connect through your own Heart and Soul and to know your Truth so that you can overcome obstacles and take impassioned action in your own life. 
My wish is to help you make your own dreams your reality. You deserve to be happy, free and living an impassioned life full of love, peace and infinite possibilities.
If you've always hoped that Angels and Beings of Light are there for you and offering their guidance but never known how to connect, this is your opportunity.
I feel privileged that you are considering working alongside me.
If you have any questions, please feel free to contact me.
Karen x