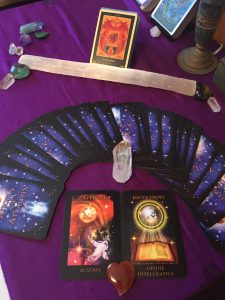 Each reading is based on the principles of Intuitive Guidance. It is a conversation – both energetic and spoken between you, I and the Beings of Light that resonate with your energies at the time of your Reading. 
Many clients come with questions ready but often the energy that you arrive with may call on a completely different area to be dealt with. I trust implicitly in the direction that the session goes. In truth, I never know exactly what will evolve as it is so personal to your needs at the time. Sometimes we receive visits from a soul from your life – who may be still alive or passed over. They may have information or just be there for support. Other times the gentle presence of your Angels and Beings of Light appear with answers and loving guidance. By using conversation my intuition connects  into your energy field and unlocks the truth of your situation which is then reflected back to you.
Each session starts with the Liquid Crystal Oracle. I call upon this Oracle as a Healing overseer to your session. Regardless of your conscious purpose for the session, there is always a healing aspect that will bring you support and relief in your life. 
The second deck most commonly used is the Angels of Atlantis Oracle. These beautiful cards act as gentle reminders and prompts and always illicit a sense of love, support and guidance from the Angelic Kingdom.
Often my intuition guides me to offer you a 3 drop dose of one or more Liquid Crystals while the Reading is taking place. This opens up your energy field and transforms the Reading into a deeper Healing session. (usually 1 hour sessions)
The Whispers of Love Oracle deck is also used for those romantic questions  if desired.
It's worth remembering that once an answer is given under Intuitive Guidance, you are given a choice by Spirit. Your free will, will take you in the direction of the choice you make. You truly are then master of your own destiny.
This is the gift that Intuitive Readings and Guidance offers you.
Intuitive Reading/Healing:
30 min – $60
60 min – $100
Location Availability:
Intuitive Readings & Healings are offered from Two Intuitives Healing Centre in Brunswick Heads, Nsw by appointment Monday to Saturday.
Intuitive Readings are also offered each month locally at the Byron Bay Sunday Markets (1st Sunday) , The Channon Craft Markets.( 2nd Sunday) and The Bangalow Sunday Market (4th Sunday)
*No appointment needed, but do know these are short 20min or 30min readings in an open air facility.
Skype Intuitive Readings & Healings are offered worldwide via the internet by appointment.
Testimonials:
Thank you from my heart and soul, Karen, for your insightful, accurate reading 6 weeks ago.I was most definitely 'led' to you, and I am happily grateful to myself for following my intuitive nudges on that day. Not only did you grant me clarity and focus for my continuing self-healing journey, but you gifted me unconditional, exquisite, desperately-needed 'soulace'.
I am still feeling the delightful ripples of your influence as I daily remember and follow your guided suggestions.
Consider me a highly-satisfied and repeat client.
You are a gift to your soul tribe, Karen/Kahlimna, and I thank you for your presence in my life.
Blessings, beautiful soul. xx
Thank you for all your support! Your guidance has been extremely helpful. More than any other intuitive I've ever met, I feel you connect to a very high dimension and stay centred in the heart.
I had the honor of an intuitive reading from Karen and it was amazing! What I loved is that she's so kind, open and encouraging. Her messages were totally on target and confirmed a lot of what I've been feeling. I liked that she told me what she felt was true from source & my guides…even though in some cases, it wasn't exactly what my ego wanted to hear. I feel a sense of empowerment, clarity and focused direction after the reading. I recommend a reading from Karen to anyone seeking more clarity and wanting a spiritual reading that's warm, accurate and encouraging.